ICON Corp. utilizes the latest multimedia digital technology to offer a complete range of "Digital Solutions" for the consumer and business markets.
Editing and Production
We specialize in and offer custom video, audio, and digital photographic editing services. These projects include business multimedia, wedding videos, custom audio compositions, old photo restorations, and photo montages.
Conversion & Preservation
We also specialize in converting many forms of video tape, audio tape, and vinyl LPs to long-lasting CD or DVDs for preservation and archiving.
We offer services for photo, slide, film, transparency, and 35mm negative film scanning to CD's and DVD's in industry standard JPEG (jpg) and TIFF (tif) file formats. Picture disks or slideshow videos can also be created with these digital files. With Kodak's proprietary formats, you are limited to the usefulness, ability to copy, and compatibility with your software.
But all of this is just technical jargon for what we really do. We preserve your priceless family memories on CD or DVD so that your children, grandchildren, and great-grandchildren can all benefit and enjoy their pictorial and video family history.
Your media is priceless and we understand the value of your film and recordings. We also know this should be a once in a lifetime expenditure, so we promise to take care of your film as if it was our own treasured memories. Everything in our power will be done to ensure that the quality is unsurpassed so that we never have an unsatisfied customer.
The media you have in storage is deteriorating more and more everyday. Why wait – get your tapes and photos out of the closet and have it digitized for permanent restoration and preservation. You need a professional scanning service like Inart Media Solutions to digitally restore and preserve all of your media. If you have been hunting for a digital media/conversion service – look no further. You have found the best!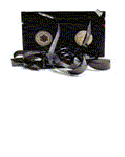 Service Summary
| | |
| --- | --- |
| | Video Tape Transfers (MiniDV, VHS, VHS-C, Hi8, 8mm) |
| | Cassette & Reel-to-Reel Audio to CD |
| | Vinyl Audio Transfer to CD (78, 45, & 331/3 LP's) |
| | Photo Scanning to CD or DVD |
| | Slide Scanning to CD or DVD (35mm) |
| | Film Scanning to CD or DVD (120 & 4x5) |
| | Film Strip and Negative Scanning to CD or DVD |
| | Custom Video/Audio Editing |
| | Custom Photograph Editing and Restoration |

═══════════════

Contact Info:

Voice: 863-420-0600

Fax: 863-424-6560

Send Email To

═══════════════