| | |
| --- | --- |
| Automation Control/Wiring | |
Automated controls provide many benefits to organizations who would like to have a mechanized infrastructure or wish to lessen burdensome manual business processes.
All size organizations, who have traditionally relied heavily on manual business process controls can greatly benefit from the replacement of those manuals controls with automated controls to enhance their control structure and reduce the cost of compliance.
Organizations should undertake and also understand the cost/benefit analysis before tackling the actual implementation of automated controls, since there is a real and definable effort in implementing and maintaining those controls.
Automation controls, along with environmental input sensors, output feedback devices, lights, relays, switches, and touch screen monitors, can also be used to create an interactive experience with a rich multimedia experience for just about any conceivable kiosk scenario.
Such a scenario can utilize a Programmable Logic Controller or PLC. A PLC is a device that a user can program to perform a series or sequence of events. These events are triggered by stimuli (called inputs) received at the programmable logic controller through delayed actions such as time delays or counted occurrences.
Once an event triggers, it actuates in the outside world by switching on or off electronic control gear or the physical actuation of devices. A Programmable Logic Controllers will continually loop through its user defined program waiting for inputs and giving outputs at the specific programmed times.
Examples of Control Devices:
| | |
| --- | --- |
| | Circuit Protection / Fuses / Disconnects |
| | Motion Control |
| | Motor Controls |
| | Motors |
| | PC-based Control |
| | Programmable Logic Controller (PLC) based Control |
| | Pneumatic Components |
| | Power Products (Electrical) |
| | Power Transmission (Mechanical) |
| | Process Control & Measurement |
| | Programmable Controllers |
| | Pushbuttons / Switches / Indicators |
| | Relays / Timers |
| | Sensors / Encoders |
Examples of Control Applications:
| | |
| --- | --- |
| | Custom Interactive Information Kiosks |
| | Repetitive Sequences (macro programming) |
| | Environmental sensor feedback, decision, reaction |
| | Presence detection (illumination on/off) |
| | Daylight-dependant control (illumination/jalousie) |
| | Surveillance with report function (SMS, email, RSS) |
| | Visualization (x.touch, iPhone, iPad) |
| | Access RFID |
| | Media control |
| | Rain alarm (window is closed in case of rain) |
| | Dawn functions |
| | Garden irrigation |
| | Pool management |
| | Data recording of switching operations |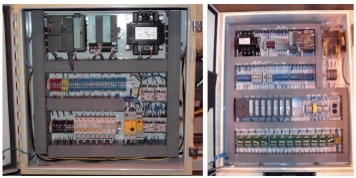 Automation Controls/

Structured Wiring

═══════════════

Contact Info:

Voice: 863-420-0600

Fax: 863-424-6560

Send Email To

═══════════════